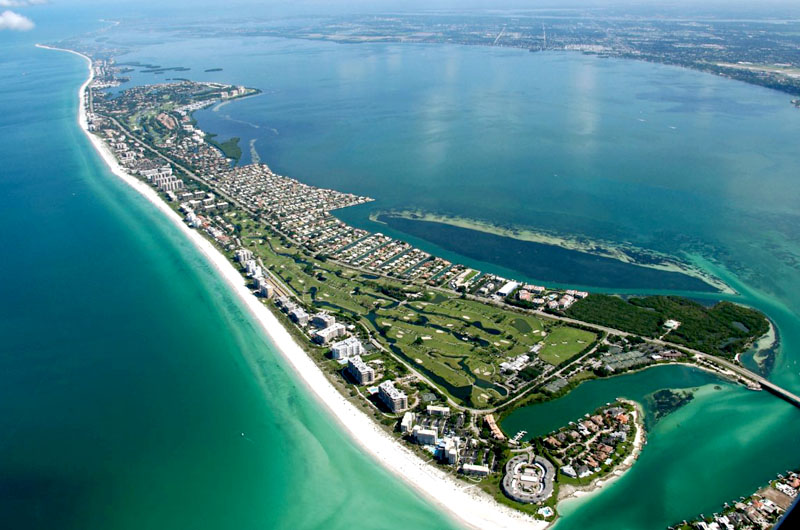 Longboat Key was the vacation land of the Timucuan and Caloosa Indians for hundreds of years. Shellmounds have been found showing that picnics and fish fries were commonplace. In 1539 Hernando DeSoto is thought to have visited here with his scout, Juan Anasco, manning the "longboat" as it went through the north pass. In 1891 Civil War veteran Thomas Mann settled with his grown sons on the north end and was awarded 144 acres as a homestead grant. One of his sons received another 144 acres on the southern end of the Key. Mann sold his land around the turn of the century for $500.
Homes were built on the north end of Longboat Key in the early 1900's, some of which are still standing. In the 1920's John Ringling bought hundreds of acres on the south end and planted Australian pine trees along Ringling Boulevard (now Gulf of Mexico Drive) from one end of the island to the other. He also built the Ritz-Carlton Hotel on New Pass, which was started in 1926 but never finished; it was torn down in 1962 after Arvida bought the land
During World War II Longboat Key was sparsely inhabited, but near the present Longboat Harbour there was a target range for Army Air Force planes, which roared over firing 50-calibre bullets. Gates blocked Gulf of Mexico Drive while target practice was held and then opened again to let the few vehicles pass. The Town of Longboat Key was incorporated on November 14, 1955. Development started gradually but hit its activity peak in the 1960's and 1970's. Longboat Key Towers was the first condominium built.
Town Commissions gradually tightened the zoning and approved Town water and sewage in the 1970's. It was estimated at the time that these utilities would serve a population of 26,000. Since then, development has exhausted almost every acre of land, and the zoning has become even stricter. Today, very few tracts of privately-owned land over a few acres remain undeveloped.
History provided by the Longboat Key Historical Society.

Sorry we are experiencing system issues. Please try again.

Longboat Key's charms divided between Sarasota and Manatee counties, Longboat Key offers waterfront golf, fine dining and luxury resorts. In fact, its 12 miles of white sand beaches have helped to make this a luxury Gulf Coast resort community. A large number of Longboat Key's nearly 6,000 residents are retirees who enjoy the island's championship golf course and tennis club, and its dining and shopping. Longboat Key brings you an elegant and scenic environment that offers the rare combination of breathtaking beaches and cultural activities – all within a relaxed and elegant lifestyle.